Climate change has made rural and urban areas more prone to flash floods. In some places, improper waste disposal has also aggravated this worsening situation. Floodwaters and standing waters can expose a person to multiple health risks such as infectious diseases, viruses, injuries, and even chemical hazards. In the case of flooding, remember the following precautions:
Evacuate to a safe place
Do not underestimate flood waters. It is always better to relocate to a safe area before the waters rise. On the way to the evacuation area, be sure to avoid driving through disaster areas, as it could be more risky. In times like these, prioritize people and pets instead of belongings.
Secure the home
Before leaving the house, turn off electricity, water, and gas. Doing this will prevent further damage and injury, especially when floodwaters get into the property. To secure belongings, be sure to lock the doors and shut the windows.
Practice proper personal hygiene
In case of immersion or contact with floodwater, one should quickly wash and disinfect the parts of the body that have been exposed to prevent the spread of illnesses and infections. Personal items that have been contaminated by floodwater or sewage should be disposed immediately. Parents should also teach their children proper hand washing before and after meals.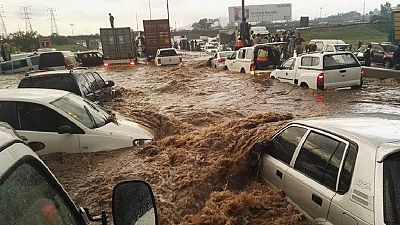 After the disaster, people should wait until the waters have subsided before going back to their homes and offices. This will prevent them from coming into contact with contaminated water and other elements that could cause further injuries.
Captain Martin Lloyd Sanders, Ph.D., is a scientist officer in the Commissioned Corps of the U.S. Public Health Service. He has more than 12 years of service in the field of epidemiology and occupational safety and health, with extensive experience in biological defense activities and infectious disease outbreak investigation. Visit this page for more information on Capt. Sanders.